As part of a new partnership with Sir Edmund Hillary Collegiate, Antarctic Heritage Trust is taking two Year 13 students kayaking in Antarctica with a kiwi Olympian.
Mele Fetu'u and Lana Kiddie-Vai will be on the Trust's fourth Inspiring Explorers' expedition in early 2019.
The team will travel to the Antarctic Peninsula from South America aboard a One Ocean Expeditions vessel as part of a scheduled expedition.
Trust Executive Director Nigel Watson, who will lead the expedition, says it will be an unforgettable experience.
"Antarctica has the power to change lives. As well as exploring that magnificent place and learning about the legacy we care for, our Inspiring Explorers will go kayaking under the mentoring of Olympian Mike Dawson and the One Ocean Expeditions' team. We are very excited."
More young people aged between 18-30 will also be on the expedition… they are currently being selected from hundreds of applications nationwide.
Nigel Watson says the Trust and Sir Edmund Hillary Collegiate have a special connection.
"The school cares for Sir Edmund's former home in New Zealand (which is now a leadership centre on the Collegiate's grounds) and the Trust cares for his former home in Antarctica. We share a genuine sense of kaitiakitanga for Sir Edmund's legacy."
Nigel and Olympic kayaker and youth ambassador Mike Dawson met the students for the first time last week, at an event held at Hillary House, to celebrate the partnership between the Trust and the Collegiate. Mike says it was a special moment meeting Mele and Lana.
"To get to meet these amazing young people and their families inside the study of Sir Ed's old home, with members of the Hillary family there, felt pretty special."
Lana says the reality of going to Antarctica for the first time is already starting to set in for the two Collegiate students.
"I'm really excited but I'm also a bit nervous. It's going to be so cold! But that is all what makes it an adventure."
Through sponsorship provided by the Woolf Fisher Trust, the Trust is also bringing a young teacher from the Collegiate on the expedition. The teacher will be announced along with the rest of the expedition participants in early 2019.
This is the Trust's fourth Inspiring Explorers' Expedition following a crossing of South Georgia in 2015, the summiting of Mt Scott in 2017, and the successful 560km crossing of the Greenland ice cap earlier this year. The Trust is partnering with One Ocean Expeditions for the 2019 expedition.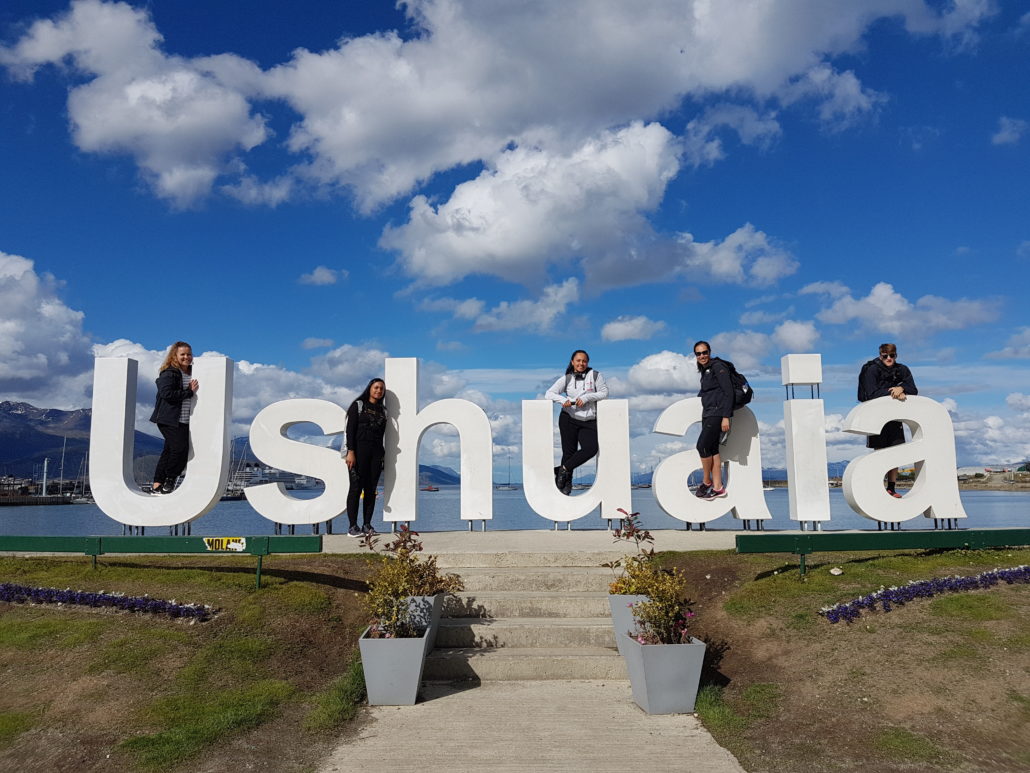 4 March 2019
We have touched down in Ushuaia, and everyone is in good spirits. I'm pleased to report that we made it without any serious injuries or lost baggage! In Buenos Aires we were treated to some seriously meaty cuisine and have had ample opportunity to practise our Spanish.
The flight into Tierra del Fuego and the southern-most city of the world Ushuaia, was a feast for the eyes, as we glided over the sharp peaks of mountains spotted with snow, rivers and crater lakes. The air is crisp, refreshing and not too cold, and the sun is beaming down.
We are all spending our down time preparing for the voyage ahead, excited to get on board the vessel tomorrow. A few of us have taken a stroll through the quaint town shops and along the waterfront.
Ushuaia is known as 'El Fin Del Mundo', 'the end of the world', as it's the southern-most city in the world and departure point for Antarctic voyages.
Written by Inspiring Explorer Rosanna Price
CASTING OFF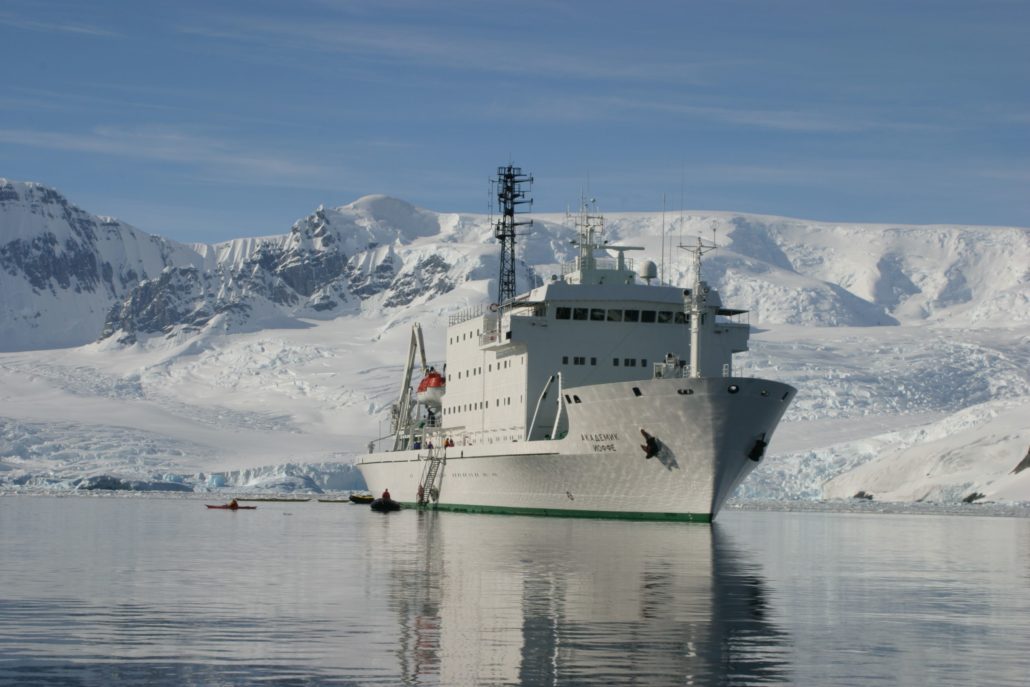 5 March 2019
We have cast off on the Akademik Ioffe!
This morning we spent a few hours getting some fresh air by exploring Ushuaia, its hilly streets and bright murals. Feeling refuelled and ready to head South, we made our way to the Port where our docked One Ocean Expeditions vessel awaited – the Akademik Ioffe.
The 117 metre-long boat was built for scientific research and is designed to measure the transmission of sub-surface sound waves. We quickly unpacked our belongings, keen to explore our new home for the next 10 days, introducing ourselves to friendly staff and other passengers – and made for the view as we made an early cast-off.
There's no better place to say goodbye to the glorious peaks of Ushuaia, than from the deck of a ship. Marco quickly sighted an albatross, and was able to capture the bird take flight.
We are now gliding through the Beagle Channel. The mountains have become silhouettes on a darkening horizon. Waves are calm. Seasickness pills have been taken. Belongings have been secured. The forecast for the Drake Passage is looking 'benign', with winds no higher than 20 knots.
Boarding the ship has reinforced anticipation for our next stop – the Antarctic Peninsula.
Written by Inspiring Explorer Rosanna Price
HITTING THE DRAKE PASSAGE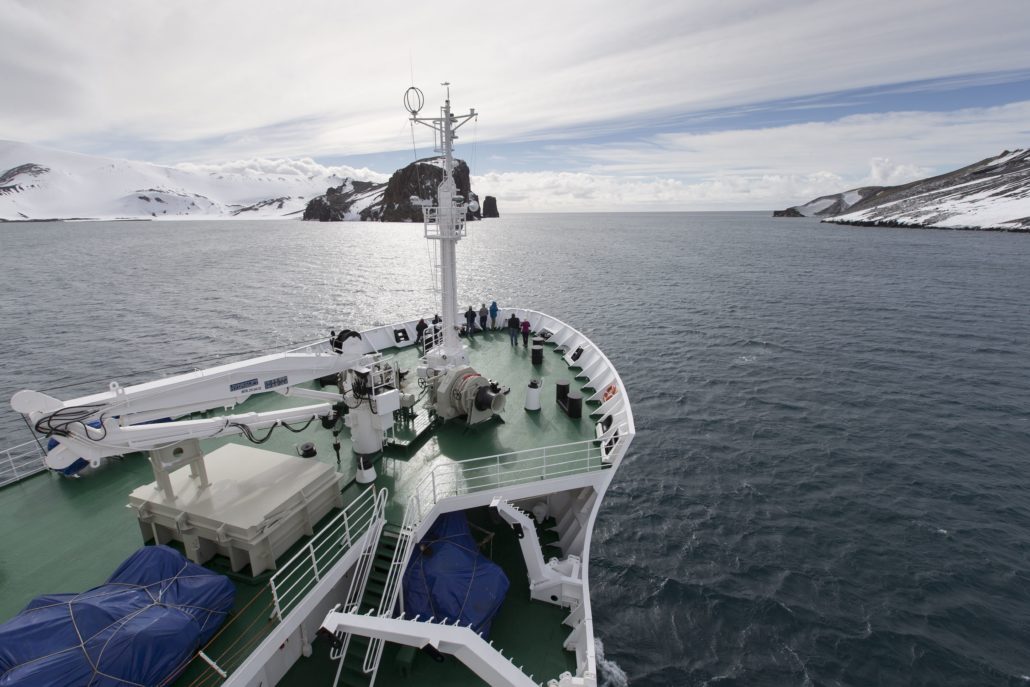 MARCH 6
Most of us awoke in our beds to the swaying motion that indicated we had entered the Drake Passage. Notorious for its choppy seas and high swells, we are lucky enough to have only gentle rocking to prepare our sea legs with.
There is dark blue ocean as far as the eye can see, and not much else except mild skies and patches of sun. Caragh, Mele and Lana have found their favourite spot on the boat to watch the waves – the corner of the stern. You feel as if you can touch the waves as they rise up and the boat plunges with the trough.
The day has been filled with presentations about whales, polar photography, binocular use and the interesting birdlife in the region. We have learnt a lot about what we are going to see. A few birds have graced us with their presence – a patterned petrel has been following the boat for some time and a number of albatross were wheeling about the ship.
After dinner we learnt a few maritime superstitions – it's bad luck to whistle on the ship and it's good luck to see dolphins. Pirates wore eye patches so that when they raided another ship, they could switch the patch to the other eye below deck (where it's dark) and their eye would adjust quickly. And you shouldn't clink your glasses when toasting, you simply clink knuckles while holding your glass.
We are all feeling well. There were a few bouts of seasickness and tiredness, nothing a few patches and naps couldn't fix.
Written by Inspiring Explorer Rosanna Price
ALMOST IN ANTARCTICA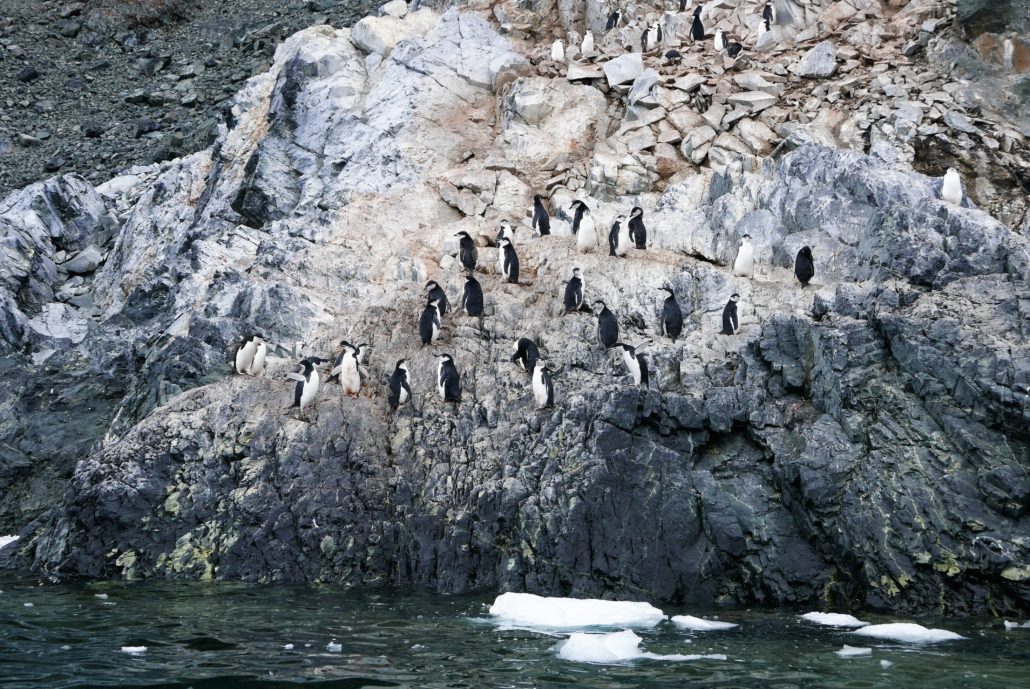 March 7
This morning Marco and I saw a whale for about two seconds – it was brown, with a curvy fin, and we've had a dozen guesses at what species it could be.
The weather has taken a turn – the waves have become bigger, wilder, crashing over the bow and sending the boat into a pendulum-like motion. On the top deck we have to be extremely careful. The winds can knock you over if you don't hold onto the rails.
We kitted up in our kayak gear today, in preparation for the adventure that awaits tomorrow. The prep consists of layering up our clothing, getting into a dry suit, pulling on a skirt which attaches to the kayak, securing our life-vest and practising entering the kayak. While all this was going on, it was snowing on the deck. Amazing.
There is a competition on at the moment where we guess the coordinates and day for spotting the first iceberg. No icebergs yet. Tomorrow it's highly likely.
We've had a rundown of the sail plan, subject to change, but the first stop tomorrow is Aitcho Island part of the South Shetland Islands. Home to Chinstrap penguins, fur seals and hopefully an elephant seal or two. We'll be up nice and early, hopefully in calmer waters, ready to paddle.
Written by Inspiring Explorer Rosanna Price.
DISCOVERING THE  WONDERS OF ANTARCTICA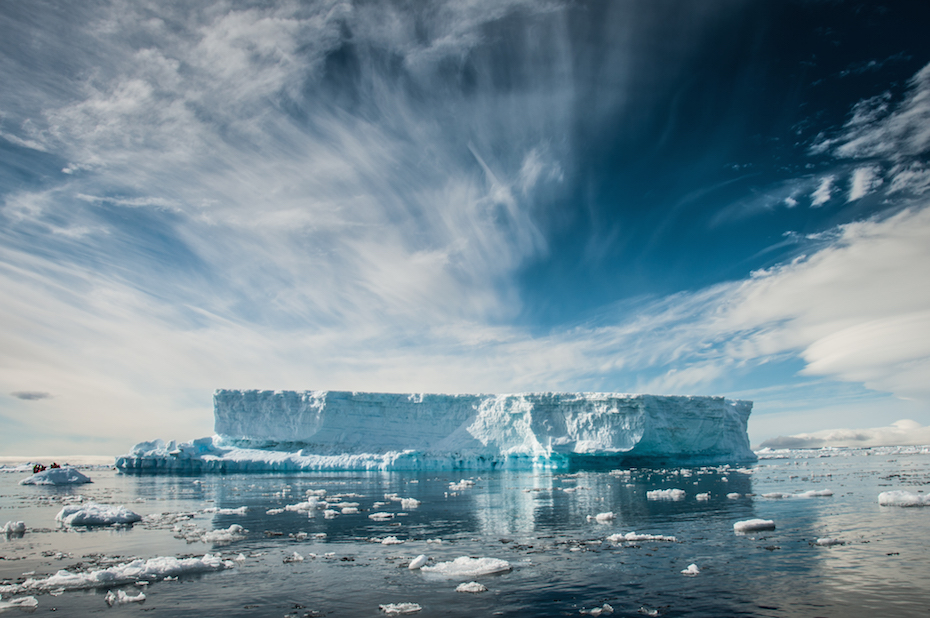 March 8
Yep, that's an iceberg. Today we really discovered the wonders of the Antarctic!
We awoke to find ourselves sailing in front of the South Shetland Islands – huge, mountainous islands of ice, snow and dark rock. Wildlife dotted all along the shores.
Finally, we were able to put all our hard work from kayak training into practise. Plonking down the gangway, and then cruising along in a zodiac, we made our way out to the calm waters of Yankee Bay on Greenwich Island. Getting into a kayak from over the side of a zodiac is much easier than we'd imagined (with many hands to help). Seals and penguins watched us from the shore, as we paddled around the coast.
It was such an amazing experience to be able to see Chinstrap and Gentu penguins, fur seals and Antarctic shags bobbing through the water, swimming alongside the kayaks and entertaining us all. Picture three juvenile seals wrestling with each other on top of an iceberg. One of the many, many highlights was kayaking through brash ice close to the shore.
The glaciers are beautiful – just like paintings. The scale is hard to capture in photographs because they look so flat, but there is a vibrant arctic blue that glows through the ice.
In the afternoon we made it to Half Moon Island. The water was a bit more choppy, and we got the chance to thread through some rocks close to shore. Again, getting up close to wildlife and being absolutely in awe of the mountainous glaciers all around us. We exited the kayaks onshore (bar Alex, who had more photographing to do from the kayak) and walked around the island to get up close to the animals – including a Weddell seal and some elephant seals. We even came across a washed up whale jawbone.
What a day. We are thoroughly fed, as always, and ready for bed.
Written by Inspiring Explorer Rosanna Price.
WHALES AHOY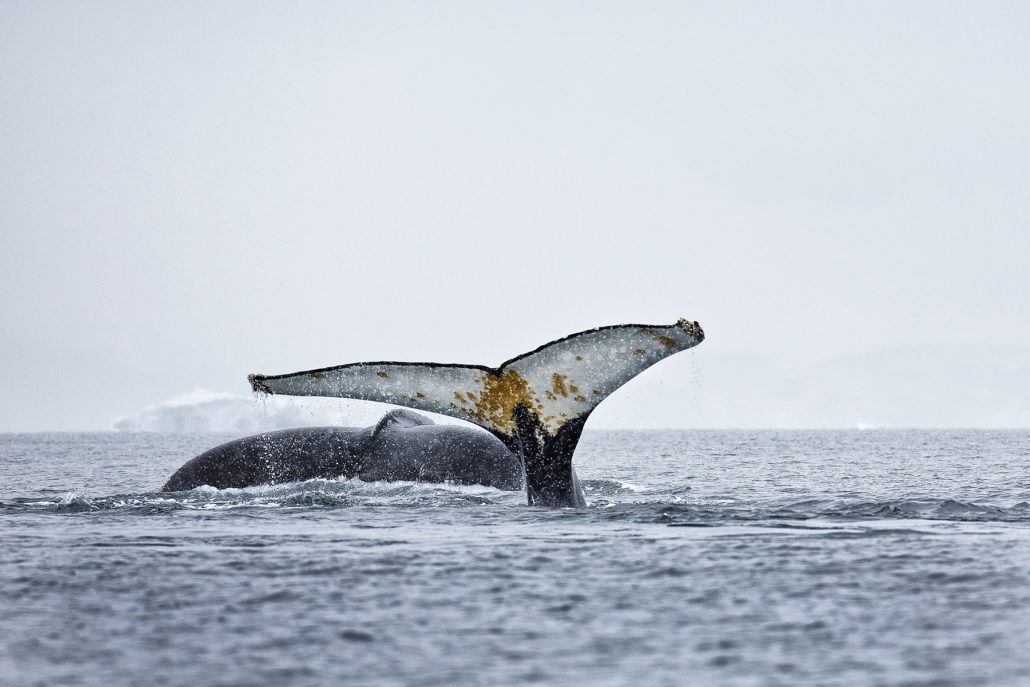 March 9
Another amazing morning in Antarctica. Today we found the whales!
The ship docked up in Charlotte's Bay – a glassy harbour surrounded by looming white glaciers over black rock, and home to large arctic-blue icebergs. Some icebergs had deep holes or caves in them, and we saw carving inside of one of these cavities.
A pod (if not pods) of humpback whales were breaching metres from our kayaks. A whale came up in front of me, mouth first, and I could make out the balaena and barnacles on its black coat. Some had a bright yellowy-orange colour on the underside of their tail which you could see as the tail came up and rolled into the ocean again.
In the afternoon, zodiacs carried some of us onshore to Portal Point. We saw a big Weddell seal lazing on the ice, fur seals playing around on the water and sliding on the ice, and a lone penguin looking for some friends. Overhead there were dozens of Antarctic shags flying above us.
We have arrived in perfect conditions to spend a night on the ice! After dinner we plan to kayak out to our own camping spot (for the Inspiring Explorers group), dig us some holes in the snow, and hunker down in bivouac sleeping bags for the night. We are all beaming about this rare opportunity.
Written by Inspiring Explorer Rosanna Price.
A NIGHT ON THE ICE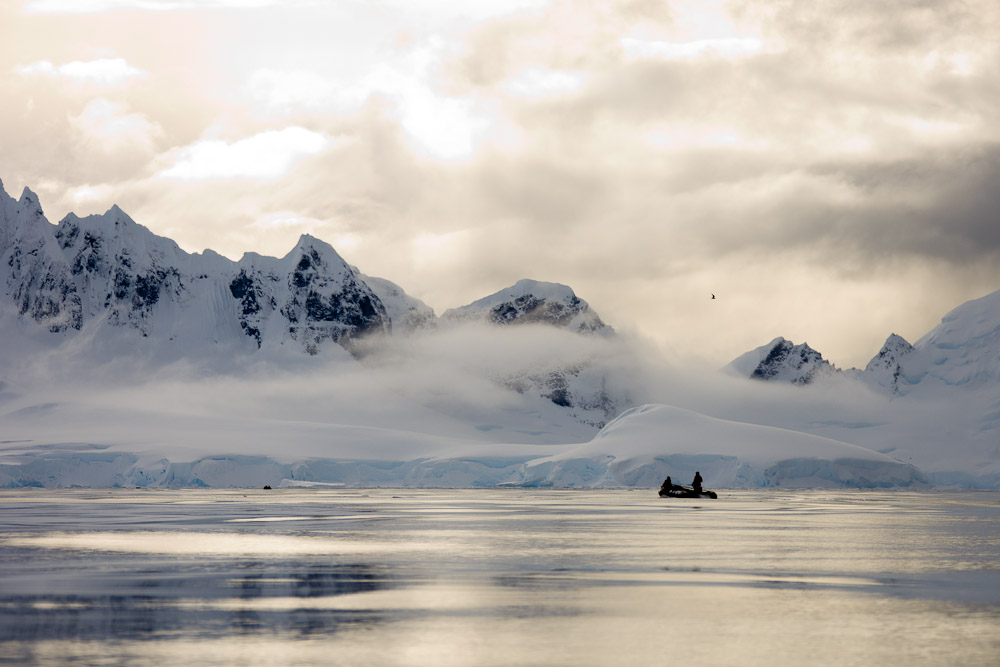 March 10
Last night, on a flat, snowy hilltop we made our beds. By beds, I mean digging human-sized holes in the ice and then placing a 'bivvy bag' with a mat, sleeping bag and liner in the hole. The view was spectacular, mountains and icebergs resting in the ocean all around us. The colours changed as the sun went down. Mele made a miniature snowman. The clouds cleared and Lana saw shooting stars amidst the twinkling heavens.
During the night there our group experienced varying degrees of sleep and coldness (temperatures down to -2). For me, cold toes in the morning was a small price to pay when you're waking up in paradise.
This morning we went for a long paddle in Foyn Harbour. This ended with paddling into a rusted shipwreck – the remains of a ship that caught fire and sunk in 1915 carrying barrels of whale oil. More humpback whales and porpoising penguins sighted on our excursions.
In the afternoon we explored Cuverville Island, home to the leftovers of a Gentu penguin colony. Those of us that kayaked had whales surrounding the kayaks and swimming underneath. Some of us got up close and personal to an elephant seal and leopard seals.
We ended with a barbecue on the stern, mulled wine, Nutella doughnuts and whales breaching beside the ship.
Written by Inspiring Explorer Rosanna Price
PENGUIN POST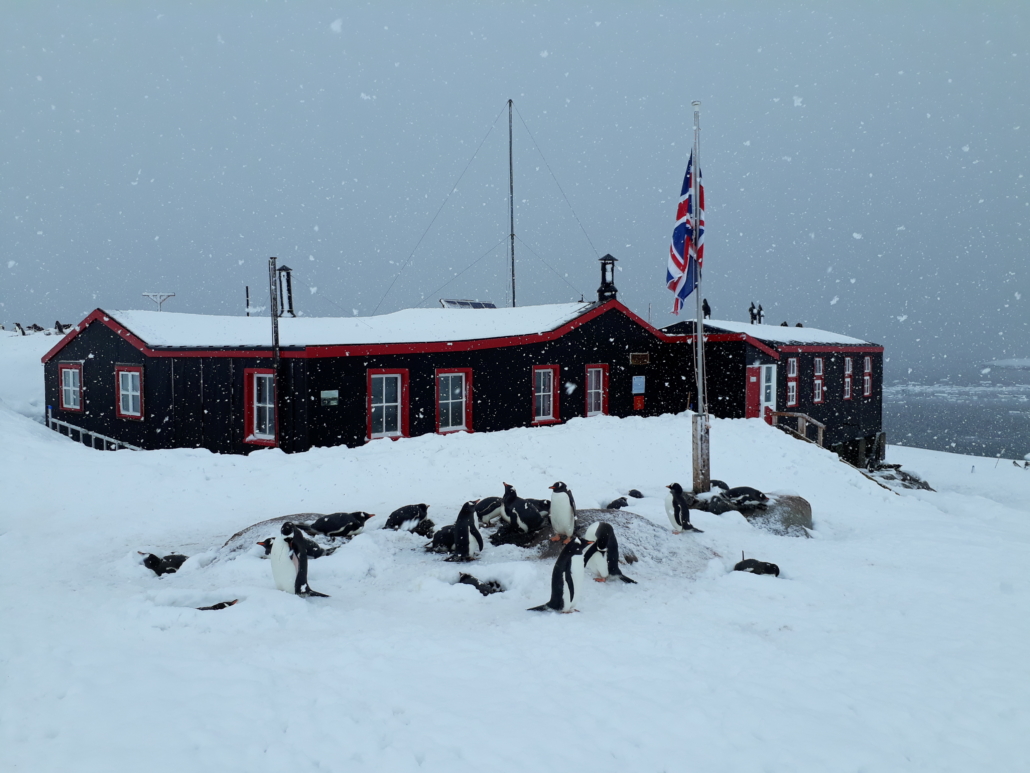 March 11
Today we stepped back in time by visiting Port Lockroy, a historic site maintained by Antarctic Heritage Trust's sister Trust, the UK Antarctic Heritage Trust. We explored the station here, Base A, which was established in 1944. The facilities have been preserved right from the tins of food, to the Reader's Digest catalogues, to the scientific equipment, as well as sleeping and living quarters.
We mailed postcards to ourselves from Port Lockroy's famous Penguin Post Office – they won't make it back to us until November as the staff, (including AHT's own Conservation Programme Manager Al Fastier), have left for the season.
In the afternoon we kayaked around Argentinean base Almirante Brown Station, to Paradise Bay. The Bay is a stunning vista filled with tall mountains, glaciers, and brash ice on a still harbour. Mike, Mele and I chose to hike up a hill, to view the beauty from above.
After dinner, Nigel gave a riveting presentation about Shackleton's whisky. Many passengers were keen for a tasting with the bottle he brought along.
Written by Inspiring Explorer Rosanna Price